Massage Therapy by Serene Bodyworks
Welcome to Serene Bodyworks Massage Therapy!
Imagine yourself relaxing under fresh soft sheets; quiet music in the background…. Feel your tension float away….  The benefits of massage therapy are tremendous:  ridding your body of stresses, reducing muscle pain, alleviating the discomfort of certain ailments and helping restore balance to your body and mind, leaving you feeling rejuvenated and helping you maintain a life of wellness and good health.
Join us at our serene location, relax with one of our many fabulous massage services today! Click the book now button on the top of any page to schedule your session today.
Types of Massage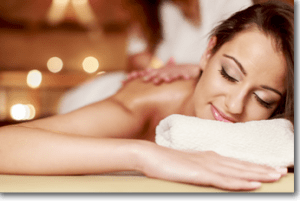 We offer a wide range of massage modalities, including: Swedish, deep tissue, fertility, prenatal, CRT®, and lymphatic drainage massage. Most massage therapists use a variety of massage techniques in a single massage therapy session. Combining techniques is quite possibly the best way to address your health and wellness needs. Talk to your massage therapist about your health goals to design a customized massage therapy session that will benefit your body and improve your health and wellness.
There are many different massage modalities that Serene Bodyworks practices. Swedish Massage and Deep Tissue Massage are the more widely known massage techniques that Serene Bodyworks offers. Cupping is another technique which utilizes the inverse of massage, applying gentle pressure to lift muscles, which increases circulation to the specific body area.
In additional to these relaxing and sports-injury/recovery massage styles, we also offer a few highly specialized styles, including Lymphatic Drainage and CRT®.
Serene Bodyworks is one of the very few in this region who specialize in Fertility Massage, Prenatal Massage, and Post Partum Massage services.  Our Post Partum Massage service also includes infant massage instruction.
Feel free to peruse our pages for additional information and details on each specific massage therapy modality.
Contact Us for more information.